What To Expect From Digital Marketing Campaigns & Its Results
We get it! Digital marketing can seem intimidating. If you're not like us and dreaming of quality search engine optimization (SEO), dazzling display ads, engaging social media, and stellar email marketing, it can all make your head dizzy.
You've probably heard of the benefits but are wondering if it's worth the time. Will a quality digital marketing strategy truly help your business generate more leads and increase your bottom line? Yes! Here are a few advantages to utilizing digital marketing and what you can expect from the results.
Increased Traffic
With the help of SEO, the organic search traffic to your website can increase. This type of traffic suggests that your visitors have a real interest in your product or service. Studies have shown that the vast majority of search engine users focus solely on organic search results.
Paid search (Google Ads™) is an effective platform that focuses on people who generally know what they want and are simply researching the products or services provided. Paid search utilizes either or both the Search and Display Networks operated by Google.
It's important to note that direct traffic, social media, and email marketing is crucial as well, indicative that your visitors to the website are already familiar with your brand.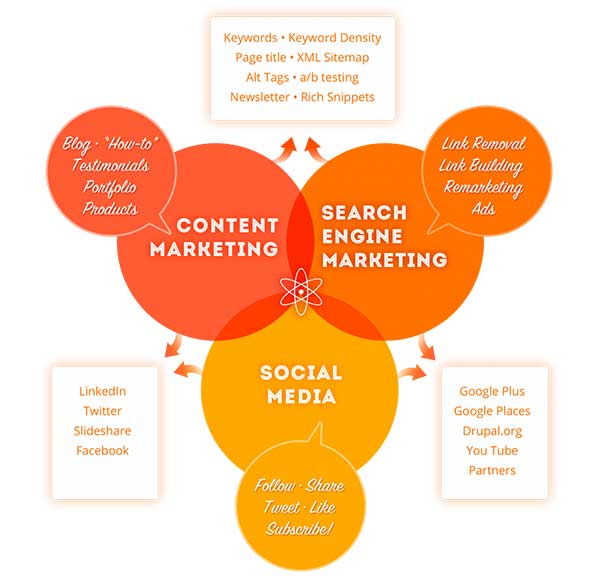 Increased Conversion Rates
A conversion rate is defined as a percentage of visitors who complete a desired goal (i.e. filling out a form or making a purchase). Conversion goals can be defined as a sale, a lead, an email signup, or even a form completion.
After attracting visitors to your website, your marketing needs to be engaging in order to optimize for conversions. Here are a few tips:
Utilize "audience" targeting. Whether you are using specific keywords, affinity or custom intent targeting, these targeted traffic audiences allow for a greater chance for conversion.
In the initial stage called "awareness", you should share relevant information to your prospect to keep their interest.
Be specific in your content and direction when providing a downloadable form (PDF) from your website. Keep them simple.
Utilize call-to-actions whenever possible. Make sure relevant landing pages are used to match the call to action.
Utilize remarketing to target people who visited your website and didn't convert.
Whatever your conversion goals may be, relevant traffic can increase your goal totals, which should increase your conversion rates.
Grow Brand Reputation and Earn Customers' Trust
A solid Digital Marketing Strategy should include all relevant social media platforms (i.e. Facebook, Instagram, and Twitter). Reliable information and testimonials will build your brand, and even earn the consumer's trust toward your product or services
By utilizing this strategy, your business could reach bigger markets!
Utilize Valuable Data & Analytics
With digital marketing, you can have access to a large wealth of data both present and historical.
With Google Analytics™, you are able to track many different metrics with regards to your website traffic. You are able to measure:
Number of people visiting your website (new and returning)
Geographic location
Age, gender, household income, and interests of the visitors
Time spent
Source and medium of traffic (devices and what social media platforms)
Comparison of traffic overperiods of time
Much more information, as well
By knowing this valuable information, you will be able to determine which marketing channels may work best for your business. This information can also help you optimize your marketing budget and in turn, help create better performing campaigns.
How long will it take to see results?
Not that you know what to expect from a quality digital marketing strategy, how long will it take to see results? When it comes to digital marketing, everyone wants to see results – and they want to see them now. While that may make sense, you need to understand that results will not be immediate.
In reality, you don't want quick results. You want lasting results in which you have visitors become customers and stay customers.
It likely will take months to see any results from any Digital Marketing Strategy. We recommend staying with any strategy for a minimum of six months before seeing any meaningful results.
The length of time to see results varies on several factors. Here are a few:
Brand reputation – How is your reputation with Google?
Competition – Who are your competitors in your industry? How competitive is your industry?
Budget –What is your budget? In general, a higher budget will yield results faster.
Strategy – What strategies will be implemented (PPC, SEO, Social Media)? Multiple strategies will of course yield results sooner.
Does your business need help with digital marketing? At BG Digital Group, we have an awesome team of digital marketing experts that are ready to help you get the most out of your digital marketing efforts. It's time to UP your game! Your customers are waiting for you. Schedule a call with us today to see where BG Digital Group could take your business.