Content: Bellagurl Wins Second Consecutive Summit Award
Some will argue print is a dying marketing platform. In some aspects they'd be correct. However, in businesses highlighting beauty, locations and breathtaking photography, visual marketing – including print – will always be most effective. Such is the case with the Outer Banks Wedding Association's annual publication, Outer Banks Bride, created and published by Bellagurl.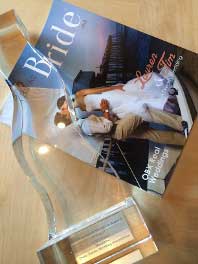 For the second consecutive year, Bellagurl was awarded the Silver Summit Creative Award  for our work on this marketing piece, showcasing the Outer Banks as a premier destination wedding location. Featuring vibrant imagery highlighting details from real Outer Banks weddings, as well as creative content written by our team to sell the reader on this location, Bellagurl worked to ensure this bridal print marketing piece was both informative and visually appealing but most importantly, it was as something brides would want to pick up.
We're excited our peers, many from around the world, recognized the hard work that went into this publication, from graphic design to magazine layout to content creation all the way to advertising design for many of the nearly 300 bridal vendors.
If you're interested in learning more about our award-winning publishing and marketing team, we encourage you to call us or visit our website today.