Atlantis Lodge: Bellagurl Launches "Pin It to Win It" Contest
Business owners may often ask themselves "Why do I need a social media campaign for my business?" The answer is to increase engagement. The easiest way to manage your social media marketing is by planning, implementing, and constant assessing! Bellagurl has launched a "Pin it to Win it" contest for Atlantis Lodge premier oceanfront hotel located on the Crystal Coast. We have facilitated a social media strategy where fans can pin their family photos under the big yellow umbrella during their stay at the Atlantis Lodge for a chance to win one FREE night stay and a bag of Atlantis Lodge goodies! Giveaways and contests are a great way to boost social media engagement. Multiple participants in the Pinterest contest created their first ever Pinterest account, simply because of their interest in entering the contest. Our success is paying off; they have increased their reach on Facebook, Twitter and Pinterest since we launched our last giveaway campaign in May!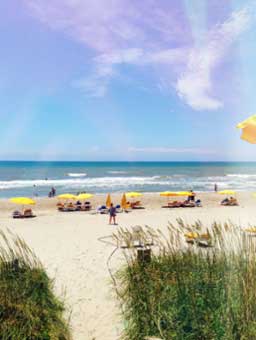 The Atlantis is a pet friendly hotel that invites their guests to stay and enjoy the beach without fretting about leaving their furry friends behind. The beach is even open to your dogs so they can relax in the sun and get their photos taken under the big yellow umbrella, too. Equipped with all the amenities,Atlantis Lodge has been in business for over 50 years and their faithful customers love coming back to visit their Pine Knoll Shores location year after year. This is a family-owned organization and they ensure all their guests experience comfort and quality during their stay. Check out the "Pin it to Win it" contest rules on Facebook and book your next vacation here.
Bellagurl is a full service marketing agency. We make marketing that matters. Our specialists can create meaningful social media content for your organization too! Check out our website here, and give us a call to schedule your free consultation today.