Successful Marketing & Advertising Stories
Massanutten Military Academy
When we were approached by a historical military school nestled in the Shenandoah Valley to help with their branding, social media campaigns and online advertising we stood tall and accepted their mission: But not for ourselves alone. We knew that we alone could not make the school successful, so we had to engage their students, staff and fans to share the benefits of MMA. First, we assessed their strengths and weakness and determined that in order to reach their target market of parents we would need to clarify their messaging. Second, we reviewed their current strategies on social and noted their visuals could use some updating with professional photography and videos to really tell the story of such a wonderful school. Third, we began our work compiling those visuals to tell the best story of the lives changed and enhanced through their time at Massanutten Military Academy. Finally, we implemented our marketing plan of including great visual messaging through social media and blogging with SEO rich keywords along with professional photography and videos. All while our social media and creative teams were working on the messaging, our digital marketing team was optimizing their online advertising campaigns and designing great emails to send to their prospective parents list. We reviewed their keyword strategy and determined we could garner better click throughs at a lower overall cost than before they began working with BG Digital Group.
Scope of Work:
StoryBrand strategy development
StoryBrand website development
Content development
Social media management & blog writing
SEO
Email marketing
Facebook advertising
Online advertising & video advertising
Video and ad creative campaigns
Lead tracking
Reporting & analytics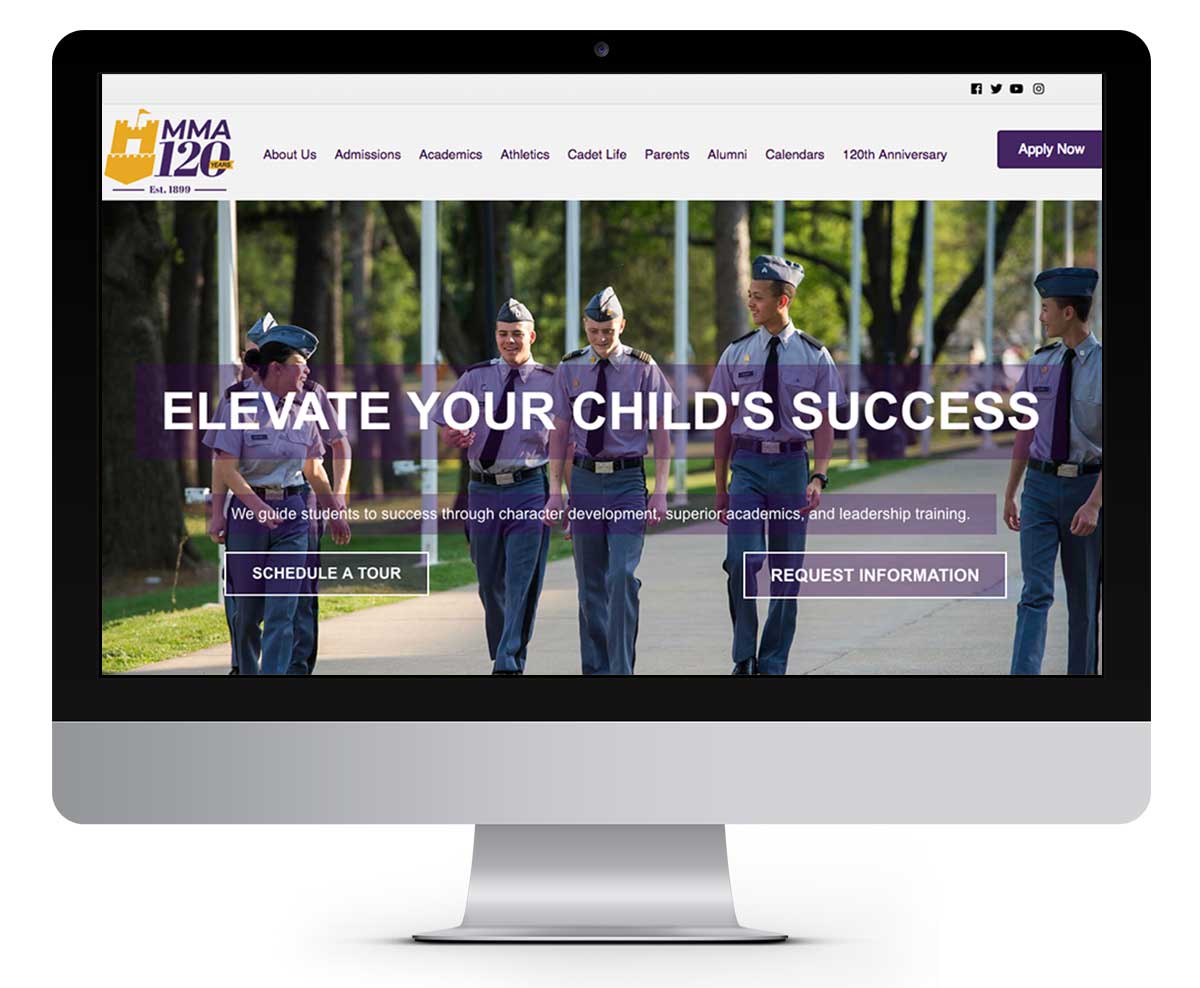 One of the best perks of being in advertising is working with auto dealerships. Designing eye-catching campaigns, shooting fun commercials and getting to work with some fantastic people makes car companies some of our favorite partners. Plus, who doesn't like to regularly experience new car smell? One great automotive group that we work with are the Parkers who make up Parker Buick GMC and Parker Honda. For many years, we have been managing their marketing and advertising campaigns through both traditional and digital means like social media, media placements, commercial production, online advertising with display, remarketing and pre-roll plus much more. We are proud to share that through our time together we have assisted in garnering record-breaking years making the Parkers able to spend more time serving their valued customers while not worrying about their campaigns all running together seamlessly. BG Digital Group manages not only their advertising but works with them on their community involvement ensuring that they are properly represented in many local events like the Big Rock Blue Marlin Tournament, Toys for Tots and many more instances that benefit our local communities. They treat us like family and we value them as a partner, which makes us want to work harder to ensure their success by going the extra mile!
Scope of Work
Digital advertising
Media buys and research
OTT
Social media marketing
Video production
Email marketing
Sponsorship management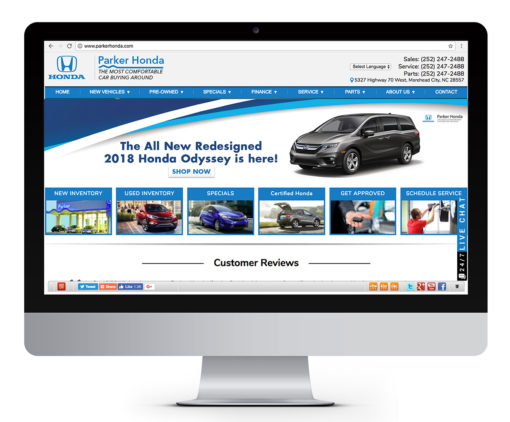 MacDaddy's was one of our first, full-service clients many years ago and we have enjoyed working with them year after year! From Telly Awarding-winning commercials with zombies and superheroes to escape room mystique, BG Digital Group always enjoys being pushed creatively by the team at MacDaddy's. For nearly a decade we have assisted in print, television and digital marketing and advertising for MacDaddy's helping them grow into eastern North Carolina's #1 Family Entertainment Center. We love their big visions and are always encouraged by their enthusiasm and love for our community. If you are looking for the best fun in North Carolina, stop by for cosmic bowling, eat in their fabulous restaurant, play in their awesome arcade, ride the go karts, play miniature golf, challenge yourself to their escape room or maybe attend one of their huge events. You'll never be bored there and something new is always being planned!
Scope of Work
Digital advertising
Website design and development
Media buys and research
OTT, television, radio, outdoor
Video production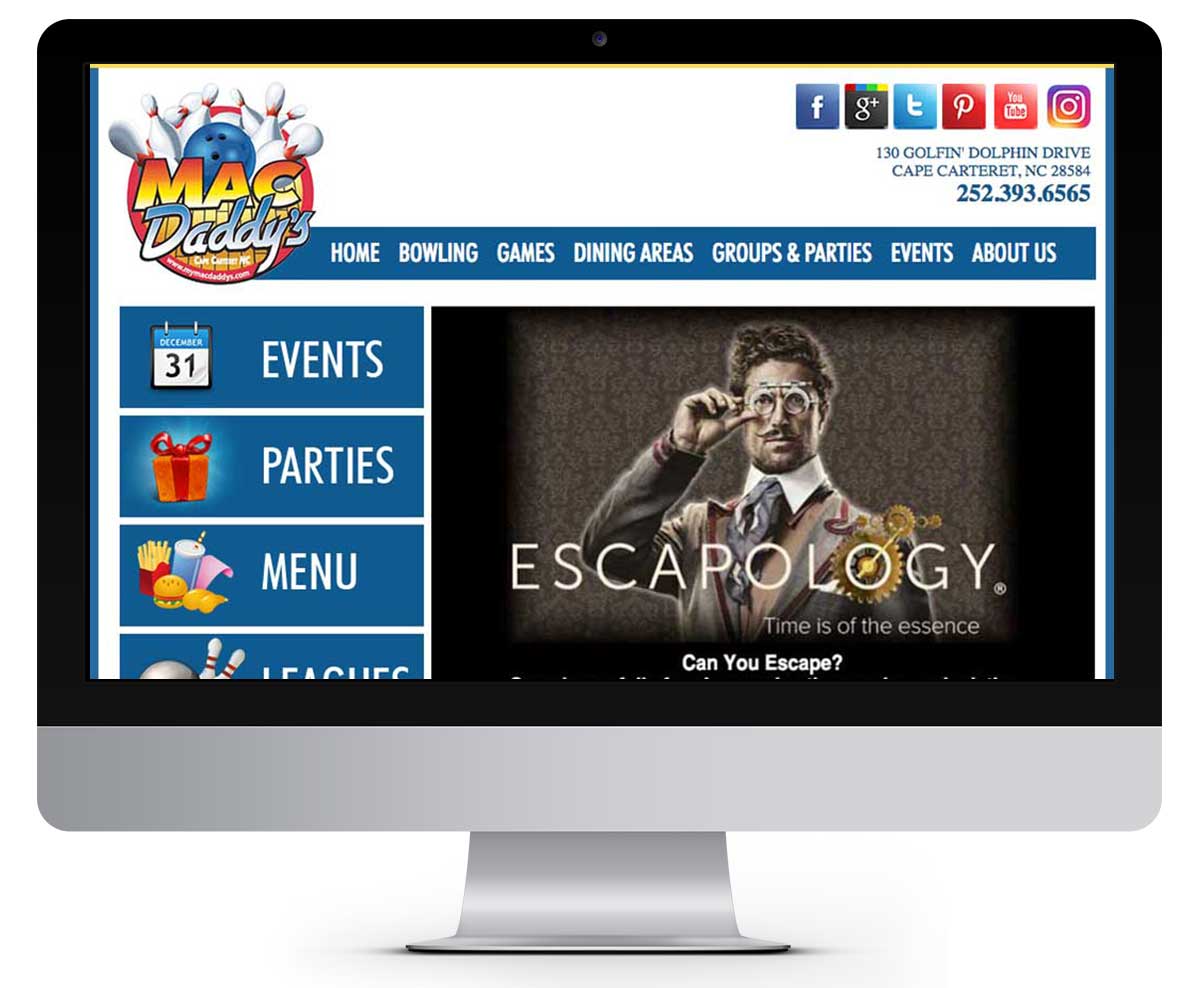 As a marketer, who doesn't want a client that daily requires you to declare mutiny on the mundane? With Calcutta Outdoors, we had the most fun that anyone should have at work! Our team designed captivating and exciting social media with this national outdoor brand. We truly felt a part of their team and looked for opportunities to ensure their success. Our goal was to optimize their online reach and create brand lift in the marketplace mostly on social media. Over the past few years, we assisted in managing video and social campaigns and assisted in sponsorship optimization and management at events. Year over year, our reporting revealed positive strides and increased sales for the brand. We were blessed to be able to work with such a fun company that shares our love for the great outdoors.
Scope of Work
Digital advertising
Social media marketing
Facebook advertising
Video production
Email marketing
Sponsorship management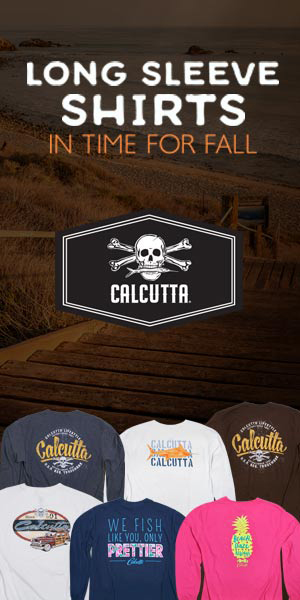 We love it when we have clients that challenge us creatively. Recently, we were excited to flex our creative muscles with the rebrand of Blue Ocean Market. We began by sitting with their team and getting an overview of their history and plans for the future. Next, we designed a plan in phases of what we would recommend to make the rebranding successful. Phase one started with a new logo that would appeal to their target demos who loved seafood but may be hesitant in trying to cook fresh fish on their own. When embarking on the design of the logo there were so many exciting elements that we wanted to pull together to explain who they were, where they came from, and where they were going. As a team, with our client partner and our creative designer, we finally decided that the centerpiece of their logo needed to be the bright and beautiful fireback grouper. While we were working on the logo, the second phase of their rebranding entailed developing a beautiful new, responsive website, and writing new SEO rich content to help promote their new market and retail store. Phase three meant pulling everything together through digital marketing. We work daily on their social media marketing and also prepare blogs and videos full of keywords to help them get found online by visitors and residents of the Crystal Coast. To wrap it all up, we created email marketing options that allow them to alert their customers of specials, upcoming events and new product arrivals. We continue to share the Blue Ocean Market story visually about their passion for fishing our North Carolina waters and providing our families with healthy, sustainable seafood. BG Digital Group focuses on posts that tell their unique story from a sea to table focus with visually rich photography and videos. We also highlight their seasonal menu items that foodies can stop by and purchase for lunch or dinner. BG Digital Group has been excited to work with such fun and forward thinking individuals and hope to continue to reel in future ideas with the Blue Ocean team.
Scope of Work:
Logo design
Website design and development
Social media marketing
Print design
Blogging
Video production
Email marketing